OUR CHURCH HISTORY
Rev. Leona "Clements" Benoit founded the ministry here in Lake Charles, Louisiana in 1987 by feeding homeless citizens on the street corners, and visiting the sick in local nursing homes, and visiting others in prisons and jails.

In 1990, Rev. Leona "Clements" Benoit founded the first Shelter for Homeless Women and Children called: (The Potter's House). In 1992, she founded the first Shelter for Homeless Men called: (The Lord's Place).

In December of 2000, Rev. Leona "Clements" Benoit founded the first Shelter for Homeless Children called: (The Wilderness Children's Home), which is currently being used as a Group Home for the Homeless.

In addition to these three ministries, in 1989 Rev. Leona "Clements" Benoit, also founded The Lord's Outreach Worship Center located in Lake Charles, Louisiana. This Annointed Place of Worship is located at the junctions of Martin Luther King Hwy. and La. Hwy 90. Approximately thirty (30) miles from the Gulf of Mexico, and thirty (30) miles from the Louisiana/Texas border.

Rev. Leona "Clements" Benoit is joined in this Ministry by her loving and supportive husband, Dr. Russell J. Benoit. Dr. Benoit is the Senior Pastor of the Lord's Outreach Worship Center.

Current Events and Suggestions WE ARE IN A TOXIE POLITICAL ENVIROMENT WE ARE IN A CRISIS WITH THIS CORONAVIRUS Now Is The Time To Be Safe: 1.Wear Your Mask. 2. Wash Your Hands.
NOW, IS THE TIME TO PRAY!
(1) MOST AMERICANS HAVE ELECTED OUR PRESIDENT: WE NEED TO PRAY TO INSURE THAT GOD'S PERFECT WILL, WILL BE DONE Through Him. President Donald J. Trump will need our prayers during Rest of his term in office.
(2) ELECTIONS HAVE CONSEQUENCES: We are hearing a whole Lot of Foolishness from the White House, and The News Media, We Christians Really need to be in Deep Prayer for God's Will, (Not Our Will) to be done. Americans Needs to come back to God, or God will turn her over to the Enemy so we can Repent and Turn Back to God. Please Pray for America, The Holy Spirit Will Lead and Guide You. GO AND VOTE OR YOU WILL NOT HAVE A SAY SO IN ANYTHING THAT WILL HAPPEN IN THE FUTURE
(3) CLIMATE CHANGE IS INDEED A FACTOR: This year we are already seeing Catastrophic Weather Events Like: The Flooding of All of Houston and South Texas, Flooding in Baton Rouge, La. Hurricane Harvey, Irma and Jose and Possible Many More to come. My Friends this is happening because of the Climate. We Need to Pray for our Neighbors in Texas, Louisiana, Florida, Bahama and the Carribeans Islands. They Need Help.
(4) CORONAVIRUS IS A PROBLEM: Let Us All Pray That The CDC Will Have A Handle on The Spread of this Threat.
(5) Our Country's Morality Has Taken A Turn For The Worst: First of all, The Supreme Court Is Not God! The LGBT Community may have won a victory in the Courts, but with God It is a Moral Disgrace. Now Everything is in the Open. The Only Reasonable Thing That We Christians Can Do Now Is Pray, or This Evil and Wickeness Will Fall on Us and Our Children. THE CHRISTIAN CHURCH HAS BEEN SLEEPING FOR TOO LONG. ITS TIME TO WAKE UP CHURCH. We Need to Pray America!

(6) The Fish (Souls) Are Biting. We Need To Prepare To Catch The Souls In 2018-19: Let us give Thanks and Praise To Our Lord Jesus Christ, for Giving His Life Freely on the Cross so that we all can enjoy both the Spiritual and the Natural freedom that we so enjoy in this country. As always, we are commanded to pray for our leaders and the people that is in charge, especially for our Clergy and our Troops that is stationed all over the world. Let us not stop praying, our country is going through some serious change, they need our prayers and support more now that ever before. Remember God Is Watching Us!
Our Church Is The Gateway To Lake Charles, La.
"WE BELIEVE THAT THE CHURCHS OF JESUS CHRIST WILL PROSPER IN 2020"

:WANT TO HELP OUR MINISTRY: Consider Adding Our Ministry to Your Estate Planning or Will. Your Contributions Will be a Great Blessing to Our Homeless People..
We Are a 501-C3 Tax Exempt Organization, which means that you Donations are 100% Tax Free. We Know That The Lord Jesus Christ will Bless You. Thank You
Donate To Our Mission Here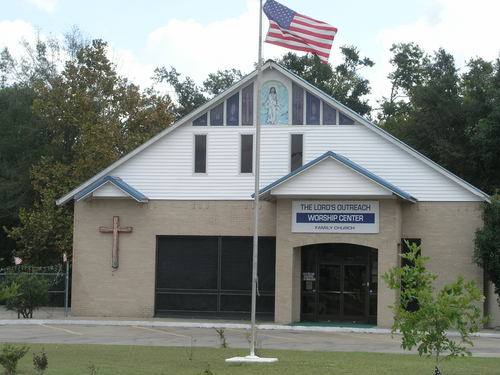 To Contact Or Send Donations: Write To:
A Brief LineUp Of Our Ministries
The Lord's Outreach International Ministries
(Where The Word Of God Comes Alive)
P.O. Box 16274, 401 S. M.L.K. Hwy.
Lake Charles, Louisiana 70616
Phone: (337) 249-3144 or (337) 249-7395
The Lord's Place
(A Shelter For Homeless Men)
P.O. Box 16274, 126 Kirkman Street
Lake Charles, La 70601
Phone: (337) 429-5448 or (337) 249-3144 Fax (337) 564-5856
The Potter's House
(A Shelter For Women & Children)
P.O. Box 16047, 3233 Kirkman Street
Lake Charles, La. 70601 Phone: (337) 249-7395 or (337) 477-1116
The Potter's House Annex
(A Safe Haven For Adult Women)
Email: LordsOutreach@Aol.com

Remember, you are always WELCOME to drop in on any of our scheduled event, anytime you are in
Southwest Louisiana or Southeast Texas.


WE HOPE THAT YOU ENJOY OUR WEBSITE TOUR
Click Here For: HOMELESS SHELTER WEBSITE