"I Believe God Fall Conference" 2016
THIS YEAR'S THEME: " BEWARE OF DECEPTION IN THE LAND" 2 Thess. 2:3
WE'RE ISSUING A SPECIAL ALERT For THE SAINTS Of GOD In THIS AGE You have heard of the dispensation of the Grace of God which is given me to you: How that by Revelation, He made know unto me the Mystery: (as I wrote afore in few Words, whereby, when we read, ye may Understand my Knowledge in the mystery of Christ). Which in other Ages was not made Know unto the sons of men, as it is now Revealed unto his holy apostles and prophets BY THE SPIRIT. Ephesians 3:2-5.
We Believe That God Has Got A Blessing Just For You!
Hotel Accommadation Can Be At: Lake Charles Richmond Inn and Suites, 2600 Moeling Ave., Lake Charles, La. 70601-- Ph: (337) 433-5213 Or Ph; (800) 643-2582, Ask for David The Manager --- For Special Rates, Mention "I Believe God Conference", Other Hotel Accommadations can be made at The Best Western Hotel, Located on Hwy. 171 North, Lake Charles, La.
Conference Registration Packages:
Conference Registration Only--$25.00 - Prophetic Luncheon Is Included
Total Packages Are:
2 People Sharing A Room-----------------Room Rate Is $65.00 Plus Tax Per Room
4 People Sharing A Room-----------------Room Rate Is $75.00 Plus Tax Per Room
Registration Fees Must Be Paid On Or Before September 10th
Room Reservations, Must Be Made On Or Before September 10th
Note: $10.00 Will Be Added To All Late Registration
--------Please Mail All Registration To: --------The I Believe God Conference P.O. Box 16423, Lake Charles, Louisiana 70616
"ITENEARY IS AS FOLLOWS"
THURSDAY AFTERNOON SEPT. 17TH
1. 6:00 pm - Our Planning Committee Meeting Nothing Scheduled For This Night
2. No Events Scheduled for This Night This Year Next Year
3. Next Year
4. Next Year
FRIDAY MORNING SEPT. 18th
Praise and Worship Time No Worshop Meeting Scheduled on Night Services
1. Workshop Speaker #1 Next Year
2. Workshop Speaker #2 Next Year
3. Workshop Speaker #3 Next Year
FRIDAY NIGHT GENERAL ASSEMBLY
1. 7:00 pm Praise and Worship LOWC / THE ANOINTED VOICES and Evangelist Pat Lacy
2. Exhorter #1 Pastor Margaret Jolivette - Restoration Worship Center
3. Exhorter #2 Pastor Louisa Austin, Universal Church of God, BMT, Tx.
4. Exhorter #3 Pastor Sophie Roberson - Monroe, La.
5. (Key Speaker) - Pastor Wilfred Ardoin, New Life Outreach, Mamou, La.
SATURDAY MORNING SEPT. 20th
1. 8:30 TO 9:00 am - Praise and Worship - (Inviting The Holy Spirit Into Our Meeting)
9:00 AM Our Power House Speakers Are:
2. Power House Speaker #1 - (1st Speaker) - Pastor Mary Ringo - Faith Vision Ministries, Iowa, La.
3. Power House Speaker #2 - Pastor Sophie Roberson, Monroe, La.
4. Power House Solo By - Minister Alfreda - Restoration Worship - Opelousas, La.
5. Power House Speaker #3 - Pastor Sheila Waddy - God's Church, LeCompte, La.
4. Prophetic Luncheon - (Key Speaker) Prophetess Apostle Nikki Jones - Alexandria, Louisiana
5. Benediction and Dismissal - Dr. Russell and Rev. Leona C. Benoit
"A Sister Is Seen Here Receiving Prayer and a Word from the Lord"
Here you'll create or edit a custom page for your Web site.
Your Host: Rev. Leona C. Benoit is the Founder of The Lord's Outreach Intl. Ministries, 401 South Martin Luther King Hwy. Lake Charles, La. She can be reached at (337) 249-7395.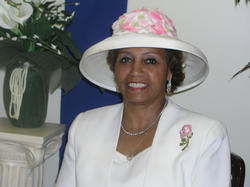 At Last Year's Conference, Many People Got Healed
Faith Comes By Hearing and Hearing from the Word of God. It Is Your Faith That Will Move God and Not Your Emotions. Have Faith In God, and He Will Give You Your Hearts Desires. Dr. R. Benoit